JNJ ONLINE AUCTION
Welcome to West Michigan's premiere online auction. Bringing you a great selection of items all in one easy to use auction site. Register now and join what everyone is talking about!
See ya at the Auction...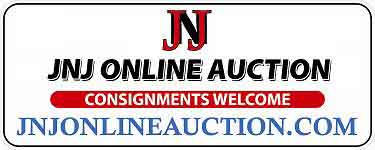 West Michigan's Premiere Online Auction Center
Call 877MYJNJOA (877-695-6562)
TERMS & CONDITIONS
This is a legal agreement between you, the buyer and/or seller, the website owner (Auction Company) and/or a local JNJ Store (Satellite Store).


SATELLITE STORE
For purposes of this agreement a Satellite Store is any location where sale items are received, housed, and sold from and where business is being conducted from as related to a particular week's sale. A Satellite Store is independently owned and operated and is NOT part of the owners, managers or operator of the website www.jnjonlineauction.com or the company named JNJ Online Auction, LLC (Auction Company).

GENERAL USE PROVISIONS
JNJ Online Auction, LLC (Auction Company) or any Satellite Store, in its sole discretion, may ban from further use any buyer or seller which either believes to have in any way misrepresented itself or any items selling, failing to abide by terms, or conduct any improper auction behavior determined by the Auction Company and/or Satellite Store. Any seller who misrepresents their items in any auction and buyer who fails to carry through with a purchase will be banned from any further use and may be subject to additional legal actions.


ALL ITEMS TO SELL SUBJECT TO AUCTION COMPANY CONFIRMATION DISCRETION
Notice: A buyer's premium will be added to all purchases. This buyer's premium varies, depending on the auction. The weekly online auctions will have a buyer's premium of 8 percent. Most off-site auctions will have a 13 percent buyer's premium. The actual buyer's premium in effect will be noted in the item description area. You will see this item description area when you click to view the items that will be selling. You may also call us to find out the exact amount of buyers premium for any auction. Visa & MasterCard's are accepted. We do not accept payment online; it must be done at the time the product is picked up.
Effective 5-23-16, The Fremont JNJ Online Auction stores will no longer accept payments made by Checks. If payments are made with Credit/Debit Cards the Buyers Premium will be calculated at 8 percent.

REMOVAL & FAILURE TO REMOVE
All purchases must be removed from the auction site without damaging any property and within 10 business days unless otherwise posted. All costs, responsibility and risk of such removal shall be done by buyer and, in every case; buyer will use prudence and care in such removal. If for any reason a buyer fails to remove any of his/her purchases within 10 business days, the auction company shall have the right but not the obligation, in its sole discretion, to recall, this guard or remove and store such purchase at buyers sole risk and expenses (storage costs at $10 per day per item-other cost additional), without believing any rights that auction company or seller may have against the buyer. Storage charge will be the responsibility of the buyer (after ten (10) business days).
After 10 business days the Buyers Premium can be increased to 20% and the selling store is not obligated to keep such items as they can be considered abandoned, relisted and sold by that store.


SALES TAX
All bidders will be subject to Michigan's 6 percent sales tax unless you provide the selling store documentation showing such exemption.


TITLED ITEMS
For Michigan residents we are required by the state of Michigan to broker all vehicles sold. A $65 brokers said fee can be charged for all vehicles which need to be brokered. In addition to a $15 fee for title transfer will be charged. Please know that buyers will need to sign the appropriate paperwork required by the state for title transfers. Unless otherwise stated, all titled items (vehicles) will be sold AS-IS with no warranties implied or expressed. It is the buyer's sole responsibility to inspect such items and know fully what it is that is being bid on before bidding on such item/s.



SELLER PROTECTION BIDS
The seller or the agent reserves the right to bid on their own item in order to protect their investment. This is a one time bid placed as close to the end of the auction as possible.
TERMS OF SALE
All items sell AS IS WHERE IS, no warranty of any type expressed to or implied as to the merchantability or fitness for any particular purpose of any goods offered in the sale. All sales are made on an AS IS WHERE IS basis with all faults. All buyers are urged to physically inspect the item during the inspection period. No bids can be withdrawn after the auction for any reason. Buyers agree that these terms as well as all other terms set forth below, can be amended or revised only in writing, signed by the auction company. Buyers also agree that any oral representations made by the auction company shall not modify these AS IS WHERE IS terms. All information and descriptions provided by the seller and contained in the sale of the items are believed to correct and factual. If, at the end of the sale of a particular item, it is determined that such information was intentionally false the buyer will have up to 4 business days from the date it was picked up, as long as this period of time is within ten days of the close of the auction, to make notification to the selling/listing store (Satellite Store) of such misrepresentation. It will then be at the discretion of the selling/listing store (Satellite Store) as to what action, if any, will be taken, but no responsibility is assumed by Auction Company or the Satellite Store for any errors or an omission.
AUCTION CLOSING
Posting & closing times displayed on the website, as compared to another's current time, is approximate. Auction Company and/or Satellite Store reserve the right to close early or extend auction at any time at its discretion. A Satellite Store can make adjustments to only their own sale. All times is Eastern Time. Soft Close bidding- the soft close bid on this web site is a featured that does not allow any item to sell at the end of the auction until there is 10 minutes of bidding inactivity. Example in item is bidding on at 8:58 PM and auction is scheduled to close at 9 PM when this bid is placed the anytime will automatically extended it to 9:08 PM when another bid is placed at 9:07 PM the auction will extend to 9:17 PM. This will give another bidder 10 minutes to place another bid. If no bids are placed in this auction it will conclude at 9:17pm. The key to the soft close bidding feature is that the auction is extended from the present closing time in 10 minute intervals.


AUCTION COMPANY RIGHTS TO TERMINATE PURCHASE
If for any reason a Satellite Store is unable to complete the sale of any purchase to buyer or provide such purchase free and clear of liens, even if the buyer was given notice that he is the high bidder and purchaser, buyer agrees that the Satellite Store may terminate the purchase agreement, and in which case the Satellite Stores only liability shall be the return of any monies actually paid by buyer.


CONSENT TO SUIT IN MICHIGAN
In the event of legal proceedings arising from this contract or from the auction in connection there with, buyer consensus to being subject to the personal jurisdiction of the court of the State of Michigan. Buyer also agrees that venue will be in which ever county the actual place of purchase was conducted, in the State of Michigan.
Any and all disputes involving, but not limited to, the sale and/or purchase or custody of any item/s must be dealt with directly with the involved Satellite Store and its respected owner/s. If this dispute results in any legal action it must be taken against the Satellite Store of which the dispute is focused upon and only against that store; the user of this site agrees that JNJ Online Auction, LLC will not be included, held responsible or liable for any disputes involving any Satellite Store. Further, any user of this website (www.jnjonlineauction.com) agrees not to hold JNJ Online Auction, LLC, not its owners, Liable or responsible for any dispute between themselves and a Satellite Store and will not include JNJ Online Auction, LLC in any such litigation.

Buyer expressly agrees to indemnify and hold the Satellite Store and Auction Company harmless against all claims, losses, expenses, damages or liability,(including, but not limited to, attorneys fees), directly or indirectly caused by or resulting from an act, including the negligent acts or omissions of the Satellite Store and Auction Company, or anyone acting in his/her behalf in connection with or arising out of an auction, except that the buyer shall not be responsible to the Satellite Store and Auction Company for damages caused by or resulting from the Satellite Store and Auction Company sole negligence.



DO NOT USE THIS SITE OR BID UNLESS YOU AGREE TO ALL THE TERMS ABOVE. BY BIDDING YOU ARE ACKNOWLEDGING YOU ARE IN AGREEMENT WITH THE TERMS ABOVE.
REVISION - 5-23-16/ 11-27-18/8-13-21