JNJ ONLINE AUCTION
Welcome to West Michigan's premiere online auction. Bringing you a great selection of items all in one easy to use auction site. Register now and join what everyone is talking about!
See ya at the Auction...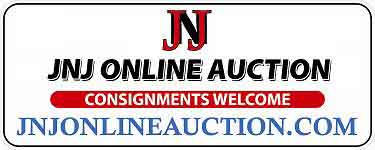 West Michigan's Premiere Online Auction Center
This listing is closed.
9789NO PLANT CONTAINERS

IMAGE THUMBNAILS
ADDITIONAL INFORMATION
DESCRIPTION
PLANT CONTAINERS
SAUCERS, BAMBOO STAKES
10-16" GREEN PREMIUM SAUCERS
8-10 GALLON PREMIUM BLACK POTS
8- #3 BLACK POTS
3- 6.2 GALLON BLACK POTS
18 #3 BLACK POTS
15 HALF GALLON BLACK POTS
3 BAGS BAMBOO PLANT STAKES 4'
CUPS, GARDEN TWIST TIES
Buyer's Premium:
8%
Tax:
For Michigan (MI) buyers the tax rate is 6%
For all others buyers the tax rate is 6%
Bidding is closed for this item.